Keystone: Increasing Equipment Control and Profitability
Keystone by Irdeto – unlocking the digital potential for equipment rental
Keystone by Irdeto is a new digital solution for the plant industry that is uniquely positioned to address many of the challenges this sector faces by supporting the integration of new smart technologies to improve accessibility, safety and productivity.
Brought to you by Irdeto, Keystone benefits from over 50 years of experience in combining digitally secure solutions that support numerous business models across the globe. To achieve this, Keystone brings together Irdeto's Cloud, Mobile, and on-device technology together with the necessary 3rd party, customer, and OEM systems.
Read more
For rental equipment businesses, Keystone has been developed to deliver a digitally-led competitive advantage, enabling users to quickly and simply accelerate short-term lease, power-by-the-hour, and OEM-owned fleet models to drive increased value in the underlying capital investment.
By enabling secure, policy-based access control capabilities on many different types of equipment, Keystone improves the management, utilization, and maintenance fleets as well as increases accountability of operators of that equipment to all stakeholders within the value chain: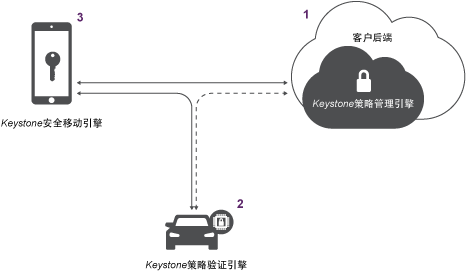 By focusing its user interface on simplicity for operators and fleet managers in industrial, manufacturing construction and material handling settings, Keystone enables better outcomes by removing typical adoption blockers, by utilizing Irdeto's long experience in securing and operating digital services.
Keystone features and benefits at a glance
Unlocking safety and performance for operators
Secure cloud storage of key operator data (qualifications, certifications and accreditations, etc.) unlocks safety and performance benefits for the operator.
Easy integration with 3

rd 

party solutions.
Complete time and access management per machine and per operator means no unauthorized or unmanaged use of equipment.
Drastically enhanced workplace safety by requiring cogitative test to unlock machinery.
Intelligence data (idle times, payload monitoring, fuel burn, etc.) allows operators access to knowledge, tuition or familiarisation videos to get the most out of a machine.
Unlocking site and fleet effectiveness for managers
OEMs' with factory-enabled Keystone will allow site managers to unlock numerous site and fleet benefits through detailed performance reports on machines and operators (idle times, maintenance alerts, fuel burn, seatbelt warnings, etc.)
Features and ranges (of power, motion, speed, etc.) can be locked and offered as 'upgrades' by the supplier, allowing the site manager more control to deliver better results.
Unlocking machine capabilities for different operators and theft prevention
By being able to digitally recognize different users and recognize their approved skillsets, owners, site managers or rental businesses can put limitations on what functions the operator can use.
Addressing functions such as lift speed and drive speed (based on experience, certification, driving history, and safety record) can ensure that operators are only given access to the capabilities of equipment for which they have demonstrated and certified training.
Unlocking remote monitoring and control for owners
Fleet owners, often removed from equipment interaction, have the ability to unlock new remote connection features to access data for numerous control features to be embedded into a single or fleet of machines.
Remote connection features could include things like remote allocation of machines to operators, geofencing and software based machine lockdowns to reduce theft, machine alerts for maintenance and the enforcement of daily checks or startup procedures before operation can commence.
Unlocking innovation with telematics 2.0
Keystone by its nature has been created to make it simpler for 3rd party integrators to embed their solutions into mixed fleets.
Unlocking supply chain optimization for OEMs
For OEM's, Keystone brings multiple benefits, reducing the need for different models within a range, making production lines simpler, whilst delivering additional revenue for its customers or the OEM themselves.
Keystone – bringing it all together
At its core, Keystone both unlocks and delivers increased value of equipment fleets.
Most organizations won't have a need for all the above use cases, but all rental companies and fleet operators can benefit directly from many. In the end, both a strong understanding of where the hidden value lies and a means to extract it can accelerate rental fleet profitability and enable growth in today's evolving digital world.
View our Keystone by Irdeto resources: