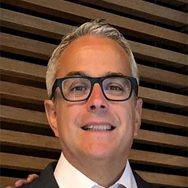 Miguel Bielich
Global Director Product Marketing
Nationality: Peruvian 🇵🇪
Office Location: The Netherlands
Read Miguel's story
Meet Miguel Bielich, he is our Global Director for Product Marketing based out of our headquarters in Hoofddorp, the Netherlands. Miguel is originally from Peru and has worked across the world throughout his career. With more than 20 years of international experience, Miguel specializes in strategy, marketing, and analysis and planning, but that doesn't limit him to getting his hands dirty in other areas.  
Miguel has been a part of Irdeto for about a year and half now, after having joined from Cable and Wireless. Prior to this he spent nearly 14 years at Liberty Global. His day-to-day duties include formulating marketing strategies, defining value propositions, and creating and execute go-to-market activities for the business.  
"Irdeto's entrepreneurial spirit that manifests within the company" is just one of the things Miguel likes the best about working at Irdeto. "The entrepreneurial spirit is something you can see happening in day-to-day activities" – which is a huge energy boost for everyone working together. 
Miguel reminisces about two experiences that have left a mark in his professional life and with both being very similar in teachable moments.
"As a young civil engineer, I was responsible for managing construction projects. The contractors building the project had far more experience in construction than I did (and even my age paled in comparison to their age). Very early I learned that if I were to be respected by the builders, I had to stand my ground and not to shy away from confrontation. There was some initial flare-ups but after couple of weeks, we were on equal grounds and my decisions were respected."
Miguel continues to explain, "The second experience was when I moved back to the US five years ago. In this case, I not only left my comfort zone in marketing, but also a company I had worked at for over 15 years. There was a steep learning curve in data models required to unveil customer insights, and I needed to drive change in a company with a very different culture. And after more than three years, I succeded in learning a whole new area and instilling a data-driven mentality to commercial and marketing decisions. These two experiences taught me important lessons to trust yourself, not to be afraid of change, and that one is never too old to learn new tricks."
Do not be afraid of the unknown, speak up and embrace the uncertainty that comes with every opportunity.
Kemi Mafe
Software Developer
Nationality: Nigerian 🇳🇬
Office Location: Ottawa
Read Kemi's story
Say hello to Kemi Mafe, a Software Developer based in our Ottawa office in Canada, who has been at Irdeto since August 2019. Kemi is originally from Nigeria and came to Canada in 2017 to study Mobile Application Design and Development at Algonquin College, with a background in Computer Engineering.
When asked about her day-to-day responsibilities, Kemi mentioned "I design the UI/UX of our mobile applications in the Off-Highway Team while working alongside my colleagues on building the mobile SDKs (software development kit) for our products", which sounds pretty cool, right?
"What I like the most about Irdeto is the people. I work with some of the most caring and respectful colleagues. Irdeto employees genuinely care for one another. We build each other up and are readily willing to help with both career and personal growth."
Kemi went on to talk about a project that she worked on that left it's mark on her.
"A project that left an impression on me whilst working at Irdeto was Contactless Rental for the construction industry by Imperto. In the past, when I heard about diversity and Inclusion, the first thing that came to mind was more representation of the races and gender. In this project, I learnt that representation based on skills and experience is also important to foster creativity. I saw how much we were able to achieve as a team in a timely manner, and realised that one of the major reasons for this is because we have a healthy range of skills and experience on the team."
Kemi continued, "This lesson is stuck with me for the rest of my career. The best way to kill creativity is to have everyone on the team think the same way or have the same background."
My advice for people is to never stop learning!